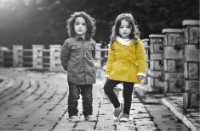 Parenting Plan Mediation is fairly common throughout New York State, particularly at Community Dispute Resolution Centers. At some point in the discussion, though, finances inevitably come up. Can we afford the decisions that we're making? Who will pay what for each decision made? What will the courts have to say about all these decisions? These questions are pointing toward Child Support. Luckily, Mediators can be trained to answer all of these questions, and more!
This training is truly comprehensive, beginning with Child Support's origins, history, and development. The text of the Child Support Standards Act is examined, along with what the CSSA requires for a valid Agreement. Plenty of time is spent on the calculations required by the courts, with particular attention paid to a wide variety of family situations. That includes the reasons provided in law to Deviate from the Presumptively Correct Amount, and what those options mean for modern families. After all, since every family is unique, shouldn't their Child Support Agreement reflect that?
An entire section is devoted to issues commonly encountered in conflicts around Child Support, complete with tips, tricks, and advice on how to Mediate those issues successfully. Agreement Writing is given real importance as well, since all of the cooperation in the world won't matter if the end product isn't easy for the parties to understand and good enough for the courts to accept.
Finally, the entire training is designed to be as interactive as possible. Participants will have opportunities for lots of practice, as well as carefully designed role-plays. Questions and discussion are encouraged, to help ensure that participants understand the theory, are comfortable with the practice, and are enjoying the training itself!
This curriculum has been approved by the Unified Court System Office of Court Administration to train and certify new mediators in the practice of Child Support Mediation. It is normally fourteen hours over two days, and the fee is $1,750 plus expenses.